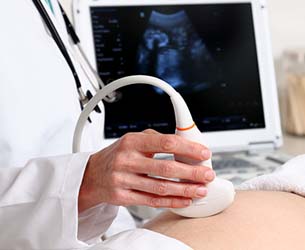 SONOGRAPHY
We provide best sonography facility in order to diagnose gynecological problems and in some obstetrics cases.
Sonography or Ultrasound imaging uses sound waves to produce pictures of the inside of the body. It is used to help diagnose the causes of pain, swelling and infection in the body's internal organs and to examine a baby in pregnant women and the brain and hips in infants. It's also used to help guide biopsies, diagnose heart conditions, and assess damage after a heart attack. Ultrasound is safe, noninvasive, and does not use ionizing radiation.
This procedure requires little to no special preparation. Our doctor instructs you on how to prepare, including whether you should refrain from eating or drinking beforehand. Leave jewelry at home and wear loose, comfortable clothing. You may be asked to wear a gown
Unlike other imaging techniques, ultrasound uses no radiation. For this reason, it's the preferred method for viewing a developing fetus during pregnancy.
Why an ultrasound is performed
Most people associate ultrasound scans with pregnancy. These scans can provide an expectant mother with the first view of her unborn child. However, the test has many other uses.
Our doctors may advise an ultrasound if you're having pain, swelling, or other symptoms that require an internal view of your organs.
An ultrasound is also a helpful way to guide surgeons' movements during certain medical procedures, such as biopsies.