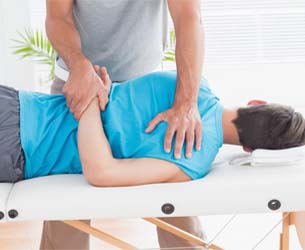 Physiotherapy
Physiotherapy is basically the science of diagnosing and treating injuries or diseases by using mostly physical means. The main aim is to reduce pain and minimize dysfunction by using evidence based techniques. Physiotherapy encompasses all areas of the lifespan from infants to the elderly in areas such as musculoskeletal, orthopedics, rheumatology, respiratory, neurology, sports injuries. Our centre employs the most advanced equipments procured from the world's leading manufacturers. A team of our experienced physiotherapists at the Hospital, helps you regain your independence and to rebuild your self-esteem and positive attitude.
Services Offered :
Orthopaedic Rehabilitation
• The treatment encompasses a wide variety of medical and surgical Orthopedic conditions such as Arthritis, Joint replacement surgeries, amputations, fractures and several pain producing muscular and bony disorders, strains and sprains.

Post trauma Rehabilitation
• Aims to enhance and restore functional ability and quality of life in individuals with physical impairments or disabilities inflicted by accidents, amputations, fractures etc.

Post Joint Replacement Rehabilitation
• Physical rehabilitation plays a vital role in rebuilding strength, agility, and range of motion in patients after any joint replacement surgery. Strength and balance is improved by exercising on various pneumatically controlled exercise stations and computerized balance trainers.

Neuro Rehabilitation
• Physiotherapy in neurological disorders is concerned with rehabilitation of individuals with brain or spinal cord injury. Patient focused and customized healthcare strategies are designed for individuals with following conditions
• Stroke
• Head Injury
• Spinal Cord Injury
• Multiple sclerosis
• Parkinson's disease
• Guillain-Barré Syndrome
• Peripheral Nerve Injury
• Muscular Dystrophy
Balance and Co-ordination Training
• A vital element of rehabilitation program. Our expert's trains to balance symmetry, speediness, strength, capacity as well as coordination. It consists of number of computerized tasking, which enhances the perception, cognition and anticipation. The exercises on MTD can be tailored for patients as per the body weight and requirement. The training by MTD trainer is supported by visual and audible feedback.
• On MTD, balance can be trained while performing various activities in different body positions such as sitting, squatting, one leg standing, toe standing, forward bending, backward bending, jumping, etc.
Spine Rehabilitation
• Various spine related problems like Spondylosis, which cause neck and back pain, disc problems and postural disorders, are treated using advanced manual therapy and joint mobilization techniques on highly specialized manual therapy table.

Sports Rehabilitation
• It plays a vital role in multi-disciplinary management of sports injuries. We aim to treat and fully rehabilitate an athlete after his injury or surgery and regain his ability to participate in sports in shortest possible time. Most advanced exercise equipments that help improve strength, stamina, endurance, flexibility, balance stability, proprioception, speed and agility are used.

Pain Management & Electrotherapy
• Physiotherapy is an integral part of pain management and is effective in different conditions like spondylosis, frozen shoulder, osteoarthritis and inflammation of joints, strains and sprains of muscles & ligaments and sports injuries.

The Centre Offers the Following Modalities in Pain Management
• Short Wave Diathermy
• Long Wave Diathermy
• Ultrasonic Therapy & Phonophoresis
• TENS
• Traction
• Infra Red Lamp